Social Responsibility
For Softtek, Corporate Social Responsibility (CSR) is a process of value creation in which we continually strive for an optimum balance between people, the planet and our prosperity.

We're constantly taking action to create value and ensure social responsibility through technology.
PROSPERITY
CSR is a concept that spans across our business and beyond. Our aim is to contribute to the social and economic well-being of our organization.
SUSTAINABILITY
ISO 26000
Each year we publish our sustainability report that compounds our results, capabilities and programs. Our reports follow the standards of the Global Reporting Initiative (GRI).
Our actions follow the seven principles and the guidance established by this ISO, the highest international standard in Social Responsibility.
INTEGRITY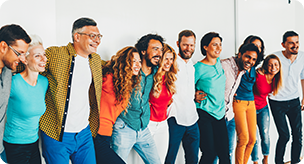 DIVERSE SUPPLIER
We are strongly committed to putting our best foot forward to deliver services to our customers. For us, trust is established by accomplishing what we have promised, with the highest ethical standards.
The diverse companies that meet Softtek's quality standards and requirements have the opportunity to be our suppliers.
PEOPLE
We provide an environment that allows a diverse group of people to grow and achieve work-life balance.
CAREERS
WELLNESS
Our talent development program is designed for any professional who would like to start, evolve or strengthen his/her career.
Through our quality of life program, Softtekians develop healthy habits, stay physically active, establish fitness goals and track their performance towards a balanced lifestyle.
INTEGRATION
DIVERSITY & INCLUSION
It all began when our founders got together one Thursday for drinks. Today, our events include anniversary parties, holiday's celebrations and the famous "juevebes."
We recognize that our talent is diverse, and we respect all identities and living conditions. Furthermore, we promote equal opportunities for each Softtekian.
PLANET
Softtek believes in the use of technology as a means for an environmentally sustainable future.
CODELLEGE
PRO-BONO
A program in which we teach coding, entrepreneurship, English and provide tools for human development to underserved youth in surrounding communities to help prepare them for opportunities in the IT industry.
Softtek constantly helps nonprofit organizations increase their impact through digital transformation.
FUNDACIÓN SOLIDARIA
Our mission is to contribute to the sustainable development of the communities where we have operations through volunteering actions.